PIZZOLOGY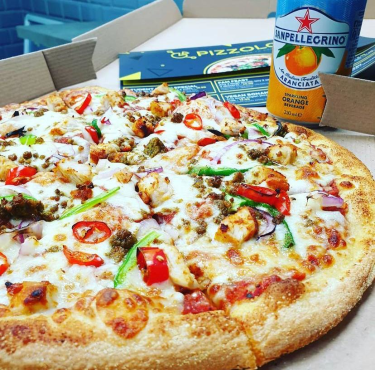 15 percent off all orders placed for collection instore
FRESH DOUGH
At Pizzology "Dough So Fresh It Was Flour Yesterday" is not just a slogan, we mix dough every day following our secret family recipe. Only ingredients you can pronounce and find in your own kitchen are used in your pizza.
REAL CHEESE
Not only was our cheese never frozen, it is so fresh that it was a shredded the day your pizza was made. Freshly shredded blocks of 100% mozzarella contain more flavor than any pre-shredded cheese. Plus, there is no need for anti-caking agents.
AWESOME TOPPINGS
Yes, we use fresh mushrooms, and we hand cut our green peppers, onions, and tomatoes every day too. We have selected toppings by quality and taste rather than cost. We generously top each of our pizzas. Yes, there are easier and less expensive ways to make a pizza, but that pizza wouldn't be a Pizzology Pizza!
VEGAN LOVERS
With vegan options an ever-increasing dedication to quality, taste and health consciousness, we strive to source quality natural, environment friendly ingredients and create tantalizing recipes blending the flavours, aromas and wholesomeness of the best vegetarian and vegan recipes.